It is especially important to use antibacterial disinfectant against the bacteria and harmful organisms that form in homes.
Increased time spent at home has made the issue of hygiene even more essential. In this period, where effective measures should be taken especially against viruses and microbes, experts state that deep and detailed cleaning should be performed using various antibacterial disinfectants.
Hypo Clean – produced by Fakir Hausgeräte as a result of meticulous R&D studies and a first in the electrical appliances sector – produces an electrolyzed liquid that provides completely natural sterilization within one minute, using only tap water and half a gram of salt. The disinfectant liquid, which has no chemical effect, does not allow the formation of odours, bacteria, microbes and fungi on surfaces where it is applied, and provides up to 99.9% hygiene according to laboratory tests.
Wide range of uses draws attention
Fakir Hypo Clean, which enables consumers to make their own disinfectant at home without using chemical additives, can be used safely even on mobile phones, children's toys, personal care items, ornamental plants, clothing, and vegetables and fruits. In addition, other areas that require hygiene measures, such as fridges, kitchen cupboards, and sinks and bathrooms, are purified from germs and offensive odours. It is safe to use on pets as well! The device has a wide range of uses, from homes to offices, and from hospitals to restaurants and automobiles.
The body's natural defence system now in your home
Fakir Hypo Clean electrolyzes water to obtain HOCI (Hypochlorous Acid), the most effective sterilization compound produced by immune cells to fight infections in the body. Hypochlorous acid contributes to disinfection by destroying microorganisms and with its antibacterial properties.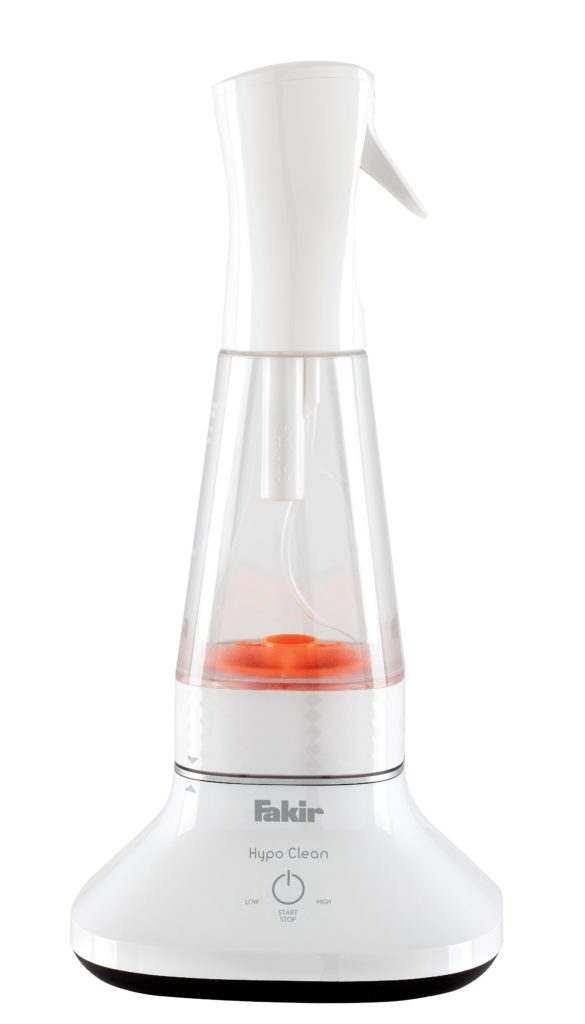 Fakir Hypo Clean offers a unique cleaning experience with the HOCI acid produced in the electrolysis process. HOCl-based antiseptic solutions, usually sold at high prices, can be prepared in the home in just minutes.
HOCl acid is known for its regenerative as well as its effective cleansing effect, especially on the skin. Studies on Fakir Hypo Clean indicate that the disinfectant can also sooth irritated skin by 85% due to various reasons. Sterilized liquid not only increases the oxygen absorption of skin but also has anti-inflammatory properties.
Stylish design, practical use
Fakir Hypo Clean is ready to use in seconds, featuring one- and three-minute modes depending on the type and amount of sterilized water. The product, which has a stylish and innovative design, can be used easily and effectively with its semi-automatic spray function.
For more details on trends in glassware, click here!
Stay in touch to follow the newest trends and tap into the world of the leading designers! Subscribe to our newsletter!